Where?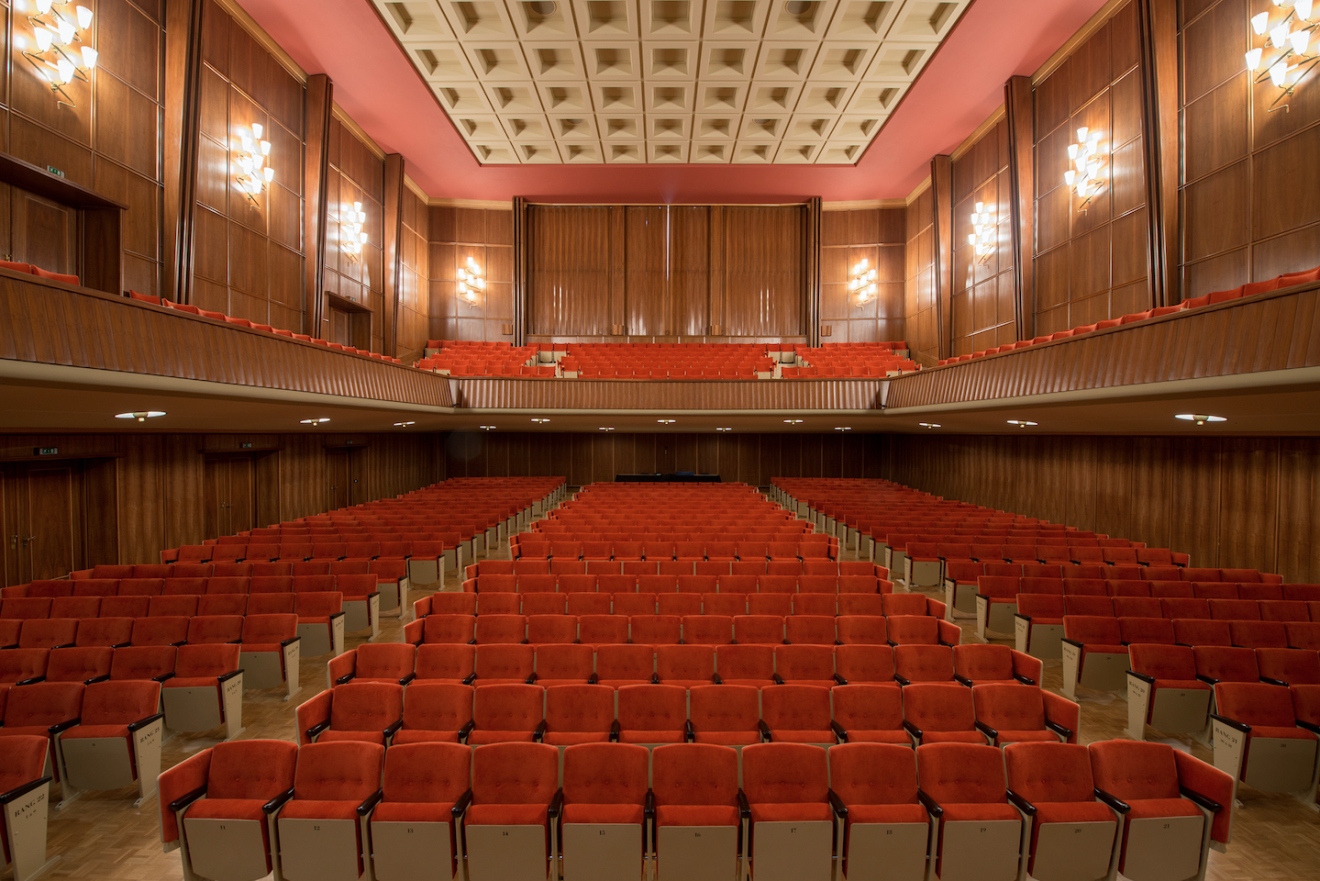 The Salle de musique of
La Chaux-de-Fonds,
a jewel with incomparable acoustics.
Avenue Léopold-Robert 27, CH-2300 La Chaux-de-Fonds.
What?
Concerts for everyone!
A music hall with renowned acoustics serving uncompromising musical quality – that's the magic formula we want to offer Perspectives Musiques audiences.
Our desire to be open to as many people as possible is reflected in the non-elitist nature of our various communications, which means that we are constantly seeking to approach audiences with words that are likely to resonate with everyone. In this way, we offer a gateway to the work, and then leave everyone free to dig deeper, find out more, learn, or simply listen and let themselves be touched.
We also aim, in the short term, to offer the stage of smaller venues to young artists or artists from our region, for whom the music venue is (still) too big. The first such event took place on November 13, 2022, in front of a packed Salle Faller, with a magnificent recital by Neuchâtel pianist Marc Pantillon.
Musique, musiques…
Two concerts from the previous season illustrate particularly well our choice not only to give Perspectives in the plural, but also to offer Music in the plural: "Endor" and "Eros, Thanatos & the Sun", two highlights of the PM 2022/23 season.
Access Espace 2's broadcast of the Endor concert.
During the 2023/24 season, the "Starry Night" and "The Perfect Match" concerts are further proof of our commitment to open up to music.
The socio-therapeutic project
Our aim is also to include populations that are still too marginalized, for example by working with institutions that welcome people who are temporarily or permanently weakened, or made vulnerable by their life course.
The socio-therapeutic project has yet to really get off the ground following the difficult period that opened in March 2020. For example, the avant-concert in collaboration with Fanfare 3D and Fondation Les Perces-Neige, which should have taken place during the 2020/21 season, is still postponed to a date to be determined. The planned collaboration with a choir made up of patients from the Centre Neuchâtelois de Psychiatrie will not take place, as the choir has been disbanded.
Another project could see the light of day during the 2024/25 season.
Our contribution to training
The "Starry Night" concert by the Signum saxophone quartet and percussionist Alexej Gerassimez, postponed several times, found its fourth "launch window" on Sunday, January 21, 2024.
The following day, in a masterclass, the four saxophonists will be giving students from the Conservatoire de musique neuchâtelois-CMNE a major boost to their musical skills. The Signum saxophone quartet is not only brilliant on stage, it also cultivates a fertile teaching activity all over the world.
"Starry Night" also features a pre-concert performance by CMNE students on the Salle de Musique stage!
On March 16, 2022, a fascinating exchange took place between Jean Rondeau and CMNE students of all instruments, as part of Perspectives Musiques' Portrait of the Harpsichord Star. In February 2020, the admirable clarinettist Pascal Moraguès gave a masterclass to CMNE clarinet students. Two pre-concerts have already taken place, one by students from the Collège musical de la Ville de La Chaux-de-Fonds (January 30, 2020), the other by clarinet students from the CMNE (February 16, 2020).
The transmission
We're going to relaunch the offer: grandpa or grandma with grandchild, child free.
Maestro Grigory Sokolov's recital, originally scheduled for June 2021, finally took place on June 2, 2023, to great acclaim. This recital was initially linked to that of young pianist Alexandra Dovgan, a concert also postponed, originally scheduled for November 2020, which ended up being the success we know it to be on June 15, 2021.
Life is decidedly generous. She gives us the extraordinary opportunity to relive the coming together of these two exceptional musicians in quick succession. While Grigory Sokolov closed the Perspectives Musiques 2022/23 season, Alexandra Dovgan opens our 2023/24 season. Almost six decades separate the two artists, but they are united by an incredible talent and a deep mutual admiration.