Subscribe from CHF 80.
Your tickets from CHF 25., from CHF 20. (reduction).
Tickets for students and apprentices for CHF 10.

Live or relive on the airwaves of RTS-Espace 2, Da Camera program, the magnificent ENDOR concert given on October 28, 2022 at the Salle de musique de La Chaux-de-Fonds by the soprano Anna Prohaska, the cellist Nicolas Altstaedt and the keyboardist Francesco Corti.
The program of the event (above) will allow you an ideal listening. Discover the fascinating interview with Anna Prohaska and Nicolas Altstaedt entitled "Magicians, spirits and biblical figures".
STARRY NIGHT
DI 21 JAN 2024
17 h – 19 h
Salle de musique / avenue Léopold-Robert 27, La Chaux-de-Fonds
SIGNUM saxophone quartet

Blaž Kemperle, soprano saxophon
Hayrapet Arakelyan, saxophone alto
Alan Lužar, saxophone ténor
Guerino Bellarosa, saxophone baryton
STARRY NIGHT
Cinq jeunes musiciens créent des paysages sonores que personne n'avait jamais explorés auparavant, en s'embarquant dans un voyage à la Star Trek.
Percussionist Alexej Gerassimez and the SIGNUM saxophone quartet are all highly acclaimed performers and universalists of the young classical music scene. These are five virtuosos who love to break down barriers between concert and performance, between styles and genres and between composition and improvisation.
Crossing borders is also the central focus of the programme which the multi-percussionist and four saxophonists have conceived together. Familiar classics such as Holst's "Planets" are followed by contemporary works by Alexej Gerassimez ("Rebirth") and Steve Martland ("Starry Night") and by a new piece specially commissioned from the New Zealand composer John Psathas. Cosmic sound tracks by John Williams rub shoulders with fire crackers from the world of rock music (AC/DC). The theatrically choreographed work "Bad Touch" and a series of moderations define the concert cosmos.
In putting together their set list, the musicians have sought inspiration from the major questions facing mankind. Who are we? Where do we come from? Where are we going? Their music takes the audience on a trip deep into space and right into the heart of our subconscious, where we confront our fears, dreams and yearnings.
In short, the concert becomes a spatial experience which appeals to all ages and all types of audience – exciting and soothing, surprising and familiar, romantic and rocking, grounded and other worldly.
Alexej Gerassimez (1987) Rebirth
for percussion and saxophone quartet
Gustav Holst (1874-1934) The Planets
Transcription for percussion and saxophone quartet, by Hugo Van Rechem
Uranus
Venus
Jupiter
Casey Cangelosi Bad Touch
John Williams (1932) Flying Theme (E.T.)
Arrangement for saxophone quartet and percussion by Alexej Gerassimez
Interval
Alexej Gerassimez (1987) Asventuras
for Snare Drum Solo
Steve Martland (1954-2013) Starry Night
Transcription for percussion and saxophone quartet
AC/DC (Angus Young, Malcolm Young) Thunderstruck
Transcription for percussion and saxophone quartet by SIGNUM saxophone quartet
John Psathas (1966) Connectome (2019)
Commission piece for Alexej Gerassimez and SIGNUM saxophone quartet
Pashupatastra
Farewell to Flesh
Rom in Space
Who knows, maybe an encore? In any case, let's enjoy it!
Grigory Sokolov, live at the Berlin Philharmonic. Rameau, Les Cyclopes
Suite No. 7 in D minor and Chacone in G minor by Purcell. Two new jewels cut by the prodigious hands of Grigory Sokolov. Nothing to see, everything to hear.
Grigory Sokolov in Berlin: every note is a jewel
Recital in Berlin on May 4, 2023
By Christiane Peitz – TAGESSPIEGEL
05.05.2023
(…) If we humans treated each other with the same respect that Grigory Sokolov takes care of sounds, we would live in a better world (…).
The sold-out Philharmonic, some desperate listeners in search of last-minute tickets, the dimmed lights, the stocky figure, the quick and somewhat odd entrances and exits, even though people are cheering for him, the forgoing of any applause before the end of each part of the concert, the six obligatory encores (Rameau twice, the Prelude to the Drop of Water and a Chopin Mazurka, Rachmaninoff, a Bach transcription) : again this year, for the audience of the exceptional Russian pianist and anti-star, everything is as usual. It's good that there are things that don't change.
It is even more beautiful that the soul of Sokolov's playing does not change either. His nuanced touch, his striking pedal technique, his amazing color modulations, he does not let up one iota. Before intermission, the 73-year-old assembled 17 keyboard works by Henry Purcell (actually intended for harpsichord or spinet) into a 35-minute piece. Short suites of movements, dances and folk tunes, which Sokolov embellishes with trills and ornaments as if his grand piano were buzzing with hummingbirds.
An airy baroque, with soft punctuations, discreet affects, finely chiseled dynamics: Sokolov prepares for Mozart with Purcell; the Adagio in B minor is preceded by the Sonata in B major, K. 333, which is just as harmonically audacious. In the Sonata, Sokolov expands the sound space to an imaginary orchestral game with a solo instrument, caressing and hesitating, and sometimes thundering, while the Adagio evokes string quartet associations. (…)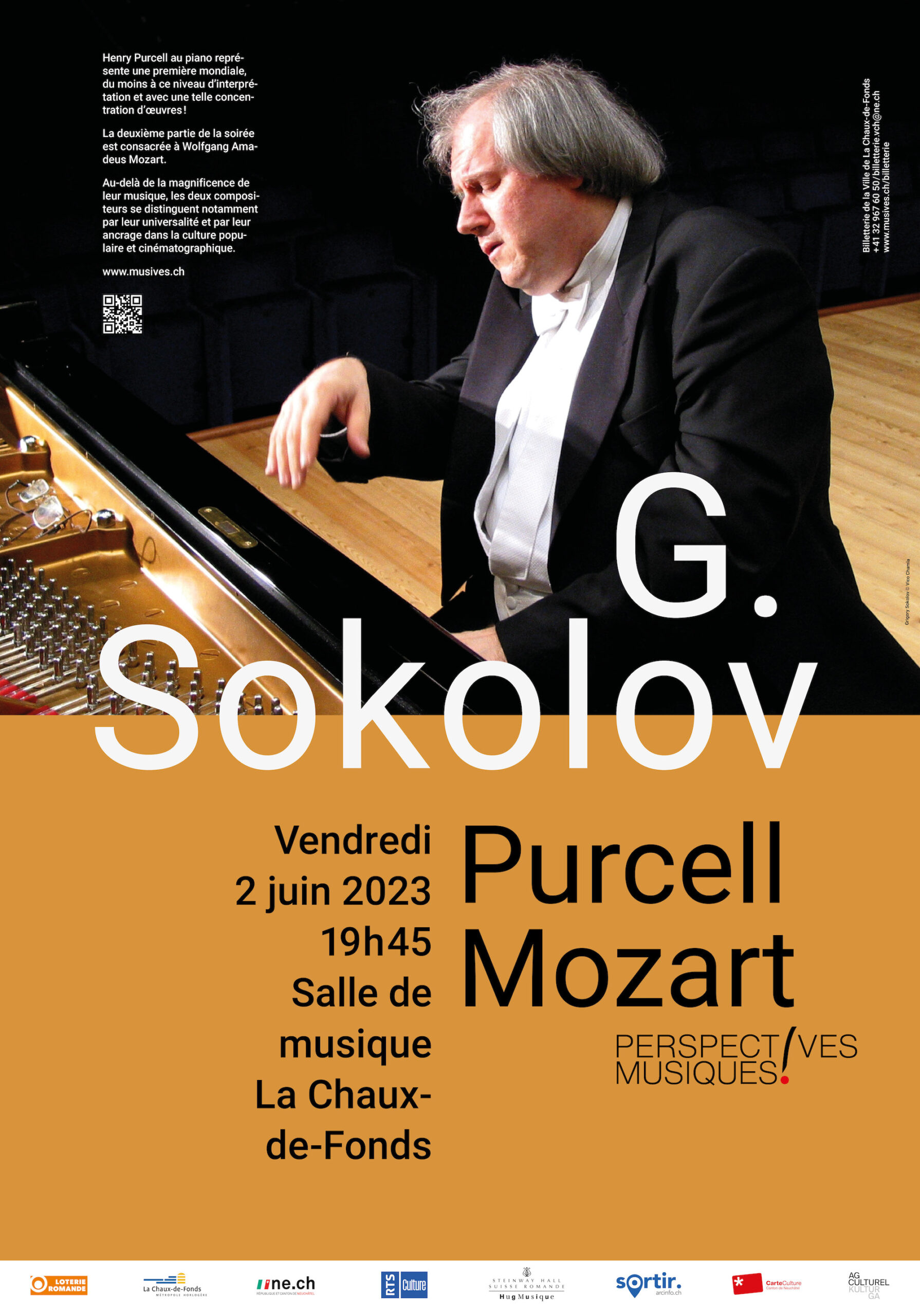 GRIGORY SOKOLOV
FR 2 JUN 2023
7:45 pm – 10 pm
Salle de musique / avenue Léopold-Robert 27, La Chaux-de-Fonds
It arrives similar to the new vintage of a great vineyard, with its character, its color, its fruit reflections. The program that Maestro Grigory Sokolov has chosen to perform is of a rare originality.
Henry Purcell at the piano represents a world first, at least at this level of interpretation and with such a concentration of works!
It took at least the talent of Grigory Sokolov to face such a challenge. However, the English composer dedicates the works on the program to keyboard instruments, which obviously gives the approach all its coherence.
The second part of the evening is dedicated to Wolfgang Amadeus Mozart.
Beyond the magnificence of their music, the two composers are distinguished by their universality and their roots in popular and film culture. The great director Stanley Kubrick, to name but one, invited them in two of his films, "A Clockwork Orange" (Music for the Funeral of Queen Mary, by Purcell) and "Barry Lyndon" (The March of the Priests, from Idomeneo by Mozart).
Henry Purcell (1659-1695)
Ground in Gamut in G major Z. 645
Suite No. 2 in G minor Z. 661
Prelude
[Almand]
Corant
Saraband
A New Irish Tune [Lilliburlero] in G major Z. 646
A New Scotch Tune in G major Z. 655
[Trumpet Tune, called the Cibell] in C major Z.T. 678
Suite No. 4 in A minor Z. 663
Prelude
Almand
Corant
Saraband
Round O in D minor Z.T. 684
Suite No. 7 in D minor Z. 668
Almand, very slow "Bell-bar
Corant
Hornpipe
Chacone in G minor Z.T. 680
— Pause —
W.A. Mozart (1756-1791)
Sonata No. 13 in B flat major Kv 333 (315c) op. 7 n° 2
Allegro
Andante cantabile
Allegretto grazioso
Adagio in B minor Kv 540
The young pianist Alexandra Dovgan, 14 years old at the time of her Perspectives Musiques recital on June 15, 2021, and the immense Grigory Sokolov were initially scheduled to perform during the same 2020/21 season. Nearly six decades separate them, an incredible talent and a deep mutual admiration unite them.
Program to come.
Photographic credits:
Grigory Sokolov © Vico Chamla
Photographic credits:
Aurèle Nicolet © Private collection Christiane Nicolet
Emmanuel Pahud © Josef Fischnaller, under license to EMI Classics
Kolja Blacher © Bernd Bühmann
Jens Peter Maintz © Mat Hennek
Christine Schornsheim © Astrid Ackermann
Grigory Sokolov © Vico Chamla